---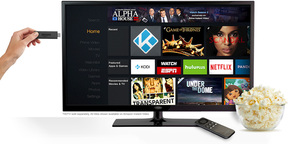 I want to thank you for visiting our site. It has always been a passion and enjoyment for my family and I to sit in the comfort of our home and watch movies and television. I known and used kodi (formally known as XBMC) for a very long time. In 2006 I was a member of several FTA community forums, this is back when the FTA receiver (STB's) boxes were very popular and were mainly used to watch all channels from Dish Network for free. One of the forum members introduced me to XBMC. I loved the set up he had, he was using XBMC with the 1st. generation XBOX to stream all his movies and cartoons to every room in his house. In 2010 I was using XBMC mainly in my PC. In 2014 the first Amazon fire Tv devices were launched and the rest is history. My family is a family of movie lovers and we are never at a loss for movies, tv shows and sport events anymore. When it's family movie night at our house you can bet we are watching the newest content out there and loving every minute of it!


I remember a time when TV wasn't a huge bill that you had to think about every month. I mean why are we all paying $150 - $200 or more for TV every month? Even if you can afford the most expensive TV options why pay those fees when you can spend that money somewhere else? Pay an extra $50 for a better internet connection which will enhance your Kodi experience. Internet is cheaper than TV without a doubt. I'm not tell you to get rid of your cable or satellite service but you could definitely get rid of all your premium programming for sure and save.

I saw a couple of friends with these before I started doing them and they simply were a horrible user experience. They were bogged down and slow. Most of the time they just didn't do anything! However I saw the potential and put the work. After many trial and error, I built a very easy to use, fast responding build, which I called "IGNITE BUILD BY DREW" that my customers have loved. For the others that I've seen out there, just because you can doesn't mean you should. Pretty back grounds and 500 apps don't make a good Firestick with Kodi. The right application, the best configurations and the very best and newest select addons is what make a great product.
---